What is the difference between a Car Appraiser and a Car Adjuster?
We'd all like to believe that our insurance provider has our best interests in mind at all times. At least that is what their commercials might lead you to believe. However, like every other business, they are trying to make a profit, and the more they have to pay out on claims, the less money they make, so in most cases, they are trying to pay you the least amount of money possible. Understanding your policy, your rights, and who to get help from, can dramatically impact the amount of money the insurance company offers you, versus the amount you are actually owed.
There seems to be a general misunderstanding of the difference between an auto appraiser and an auto adjuster. By gaining a clear understanding of the differences, you will be more prepared to deal with the insurance company in the event of a car accident. One thing to make note of, is that appraisers are typically independent of the insurance company and work on their own, while adjusters work directly with (usually for) the insurance company. Independent appraisers can give a fair, unbiased assessment of a car's value, while an adjuster's main concern is to determine the maximum liability of the company they work for.
Below is a breakdown of the major differences between appraisers and adjusters:
Car Appraiser
Determines the value of a vehicle for resale value, insurance, tax, financial purposes and other reasons.




Typically engaged during car sales, refinancing, or when someone is looking to understand the value of a classic or custom vehicle.




Requires in-depth knowledge of cars, market trends, and factors that influence the value of a vehicle. They often have expertise in a particular type of vehicle, such as classic cars and custom cars.




Primarily interacts with car owners, dealerships, auction houses, and sometimes financial institutions, insurance companies, attorneys and the legal system.




Provide an estimated value for a vehicle, which can be used for various purposes.



Specific certifications or licenses to practice may be required in certain areas. Specialized training or courses might also be necessary.
Voluntary certification courses are available. Consumers would be wise to hire appraisers who are certified.
Auto Adjuster
Insurance claims and damage following an incident to determine the extent of the insuring company's liability.




Involved after an insurance claim is filed, specifically when there's a need to evaluate the extent of damage and associated costs.




Requires skills in claim investigation, understanding insurance policy details, negotiation, and determining repair costs. They need to know about vehicle repair processes, parts costs, and labor costs.




Primary interactions are with policyholders (car owners), auto repair shops, and sometimes with law enforcement or witnesses if the claim involves an accident or theft.
Supplies the amount the insurance company is liable to pay for a particular claim, based on the policy terms and the assessed damage.
Requires a license to operate, especially if working for an insurance company. The licensing process might involve courses, exams, and continuing education.
As you can see, auto appraisers are experts on cars, while auto adjusters are experts with insurance policies and the cost of repairs. Some insurance companies have their own appraisers on staff, but because they work for the insurance company, they don't usually have your best interests in mind.
If you've recently been in a car accident and believe the insurance compensation is less than your vehicle's true value, you're entitled to seek an assessment from an independent appraiser. Such professionals, like the team at Auto Appraisal Network® - Sacramento, operate separately from insurance companies, ensuring an unbiased evaluation. Our expert appraisers provide accurate and fair evaluations, crucial for classic or custom cars that don't fit standard classifications. Relying solely on KBB or NADA databases, as insurance adjusters often do, doesn't capture the unique value of such vehicles. Many clients, after engaging Auto Appraisal Network® - Sacramento for their appraisal needs, have seen significantly higher settlements from their insurance company.
Insurance is meant to protect you when accidents occur, and, for the most part, it does. Knowing what your rights are and understanding your policy can aid in making sure you get paid the amount you are actually owed, and not just the minimum they try to get away with. A certified auto appraiser from Auto Appraisal Network will assess your vehicle for its diminished value, or if it was declared a total loss, and provide you with a certified appraisal report that contains full color photos, notates the customizations and has current comparable data to prove what your car is really worth to help you get a fair amount for your vehicle after an accident. Get in touch with us today at (916) 269-3171 or visit https://autoappraisalnetwork-sacramento.com/ to learn more, or to schedule your appraisal. If we think the insurance valuation is accurate, we'll tell you right away, free of charge.
Auto Appraisal Network® - Sacramento specializes in appraisals for classic, custom and collector vehicles, including cars, trucks, SUV's, motorcycles, boats and personal watercraft. We do appraisals for insurance policies and claims, such as diminished value and total loss, probate, bankruptcy, divorce, financing, fair market value and pre-purchase inspections.
Our appraisals are certified and accepted by the legal system, insurance companies and financial institutions. When you need an accurate, fair assessment of the value of your ride, you need Auto Appraisal Network® - Sacramento. Call (916) 269-3171 to schedule your appraisal today.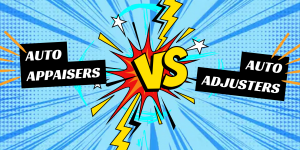 What is the difference between a Car Appraiser and a Car Adjuster?
If you're dealing with a wrecked or totaled vehicle, knowing the difference between these two professionals is going to be beneficial for your bottom line.